'Great history and past beauty' as Hamilton's old mill buildings are revitalized, repurposed
For years, township officials have touted Hamilton's location – near so many major highways and just between New York City and Philadelphia – as a particularly fertile place to grow a thriving business community.

Eight companies or individuals making great contributions to that community were honored by the Hamilton Township Economic Development Advisory Commission at the 39th annual Hamilton Distinguished Business Achievement Awards ceremony, held last week at the Stone Terrace by John Henry's.

Chosen by the commission after weeks of voting and debates – with the exception of the beautification award, which is hand-picked each year by the mayor – this year's honorees include a real estate firm, a drink distributor and a florist.

"We love to do this, to come together as business leaders," said John Strycharz, commission chairman. "The township keeps moving forward. It's good to see it. There's good stuff happening here."

One way the township is moving forward is by giving a nod to its past, through the work of township beautification award winner Danny Popkin, who was recognized by Mayor Kelly Yaede for his rehabilitation of several major buildings in Hamilton, including Studio Park on East State Street.

"I think (the mayor) realizes that we're one of the few people redefining the way these old mill buildings are used in New Jersey," Popkin said. "It's done in a way that not only respects the great history and past beauty of these buildings, but also finds a way, in a new, modern format, to invite new businesses in."

At Studio Park, the result has led to the complex attracting many new startup and creative businesses, including this year's winner for the new business award, Bai Brands, Popkin said. He also has extended his efforts to save the old Route 1 diner in Lawrence, after the township struggled for months to find a suitable way to dispose of the 50-year-old aluminum building.

Despite his success, Popkin said he never intended to do this type of work. While earning his master's degree in New York City, he began working as a carpenter, rehabilitating old buildings, as a side job, to help pay the bills.

After moving back to his hometown of Hamilton, Popkin decided to follow the passion he had developed for such projects in New Jersey, starting with the revamping of an old brownstone in Trenton that he bought with his brother.

"It started one brick at a time with a little house," he said. "Eventually, I started buying bigger properties, and now, with Studio Park, that's 200,000 square feet of rehabbed space in Hamilton."

But the most beautiful thing about his work, he said, isn't the end result, but the process of getting there.

"It's seeing the progress, being involved in something and going into a space that's totally transformed," he said. "It could be as simple as cleaning bricks to bring them back to life, adding new sheet rock or a new door or a glass floor. It's just adding these modern elements to these old, fabulous qualities – it's the juxtaposition of the two, and as it comes to life, that's what I get excited about."

Along with Popkin and Bai Brands, the commission honored Re/Max TriCounty with the corporate award; Encore Florists and Peter Giancola & Sons with the local business awards; the Kiwanis Club with the nonprofit award; Michael Heenehan as business volunteer of the year; and William Rue with the lifetime achievement award.

None of the honorees has won before, as the commission strives to recognize new businesses each year. But there are always familiar faces in the audience, according to commission member Deb Runyon.

"Every year, the companies we've honored in the past come back to support this next set of honorees," she said. "They usually become sponsors of the event, and that's how it's become self-sufficient. Plus, it's just nice to see so many past winners in the audience come out to support the community."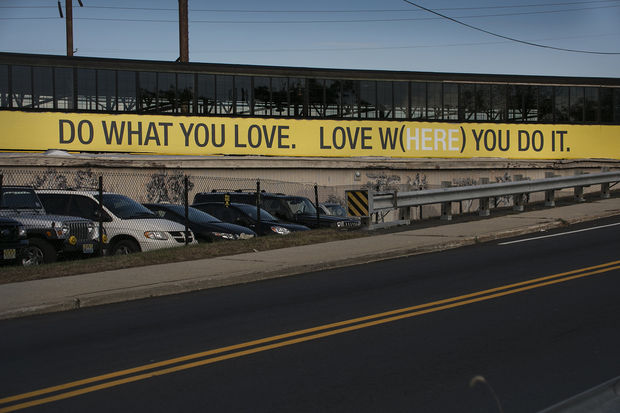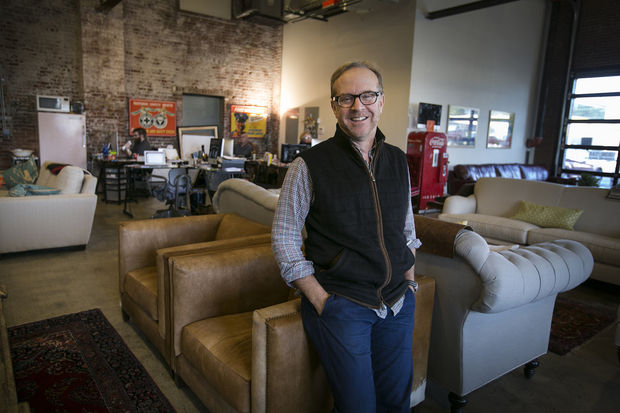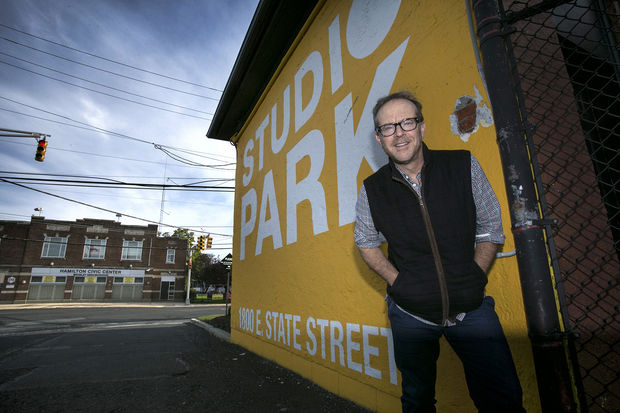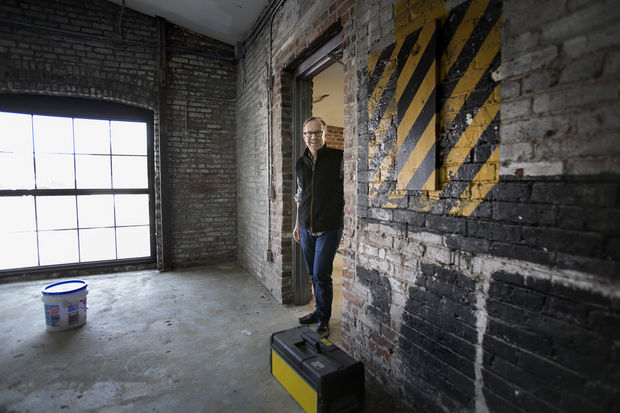 Daniel Popkin Profile

"Passion." It's the first thing Daniel Popkin, owner of Modern Recycled Spaces, says when asked to describe his business. Popkin is not your average real estate developer. He brings his passion for transforming spaces into a world usually occupied by those who only focus on their bottom line. "The other guys might be producing beautiful spaces, but it seems so cold and calculated. I'm not like that. I want my tenants to have the same feeling about the space as I do, even if that requires me to work harder." Listening to Popkin speak about his projects and his vision, it's hard not to get swallowed up by what seems like endless possibilities. He believes in his spaces in a way that inspires people to dream big. For him, it's not about simply leasing out space, it's about fostering an environment that allows and encourages businesses to grow.

Popkin's own story is evidence of his commitment to dream big. "I've been in this business since 1982 when I recognized the potential for old row houses in Trenton. I was working as a carpenter, and together with my brother, we put our sweat and blood into restoring once neglected spaces." A native of Trenton, Popkin always admired the stately homes and could not resist the opportunity to help revitalize his hometown and pour his energy into a worthwhile project. The experience changed him. He cites the way the new homeowners fell in love with the spaces and immediately began engaging in their community as the real profit from the project. "There it was. What no one thought was possible in Trenton—people moving back to the city and loving it."  

From there Popkin moved on to larger, more complex projects. From renovating the 20,000 square foot Stockham Building in Morrisville, Pennsylvania to the development and management of a 200,000 square foot former ABB headquarters in North Brunswick, New Jersey, he never shied from a challenge. Today, he owns and manages 12 properties in New Jersey, and his passion refuses to cool. "I can't quit. This is what I do; it's who I am." Banks and lenders seem to agree. Popkin has proven himself to be a secure investment. His long list of successful projects is a testament to the relationships he has built on trust and a belief in his vision. In his career Popkin has owned managed almost one million square feet of space with hundreds of lessees from high-profile tenants like the US Government, the State of New Jersey, Lumber Liquidators, Princeton Healthcare System, more locally-oriented companies like Rojo's Roastery and the Menlha Buddhist Center, and emerging brands like Bai Beverages and Yapple Yogurt. 

A graduate of Georgetown and the New School for Social Research, Popkin has a background in History and Economics. Coupled with an interest in philosophy and culture, Popkin has applied his knowledge to his work. He knows that real estate is about numbers, first and foremost, but he believes what separates a good developer from a bad developer is a keen awareness of the community, its history, and the needs of the tenants. "What works in Hamilton might fail in Lambertville. I have to think critically about a place when planning a project. A lot of research goes into our plans," he says. The result of all this effort has been committed tenants who add value to their community instead of just occupying space. 

Popkin is an avid collector. Besides collecting beautiful buildings, he enjoys hunting for antique oil cans, vintage tin toy cars, posters, and signs. However, he doesn't keep his collections to himself; strategically placing pieces throughout his buildings as art and conversation starters. The effect is remarkable. He has bridged the gap between past and present through design. In Studio Park a classic wooden gear mold hangs on the wall opposite a contemporary glass conference room. "It's all part of the vision of Modern Recycled Spaces. We want our tenants to be inspired by their space. Wasn't it Jane Jacobs who said, "New ideas require old buildings."? 

Popkin's travels around the Southwestern United States have influenced him to seek out great examples of Native American pottery. His interest in pottery, he says, is reflective of his admiration for handcrafted design like you might see in his buildings back in New Jersey. Influenced by its rich color palette and intricate geometric patterns, Popkin has introduced hints of Southwestern art into his projects. "With exposed brick and dark wood, the warm colors of the Southwest were a natural fit," he says. Airing on the side of caution, however, he maintains that design shouldn't overwhelm people, and themes work best when subtle and consistent.  

When it comes to his tenants' spaces, Popkin feels that the space should reflect their business, not his personal aesthetic. Peering into a few examples shows the variety of tastes and needs. Some tenants prefer a raw, open space left in its original condition while others have introduced bold colors and internationally inspired décor. He insists on working with tenants to produce spaces that make them comfortable believing that happy tenants are more likely to renew leases and invest in their community. At Canal Studios, a 40,000 square foot property with 32 tenants, no one exemplifies this more than Rojo's Roastery. For the last six years, Rojo's has been a community hub of Lambertville's North Side serving up the finest coffees and café selections. Owner David Waldman signed on early to Popkin's vision for Canal Studios and has said he cannot imagine running his business anywhere else. This type of tenant-owner relationship has been central to Popkin's success. 

Watching Popkin work is quite an experience. With seemingly endless energy, he bounces from task to task giving equal attention to everything he does. There is hardly a stage in each project where he does not have a hand, but he is not a micro-manager. In fact, it's hard not to compare him to someone like Charles Eames who was famous for saying, "Never delegate understanding,". He gives a lot of creative freedom to his employees, but he insists on understanding each facet of his business. "We have to be on the same page. I may hire the best talent in the area, but we are all more successful when we come to a consensus about the vision." 

What's next for Popkin? "I want to continue developing Studio Park and Mesa, our new coworking space. There is still so much potential in this 200,000 square foot building. Currently, Studio Park has over 25 tenants, but there is still plenty of room to grow. And Mill One! Think of what we are going to do there!" Popkin is referring to his newest project, a 220,000 square foot old mill building at 1 North Johnston in Hamilton, just down the road from Studio Park. Where some see cavernous blight, Popkin sees opportunity for economic revival. Partnering with Isles, Inc., a local nonprofit community development and environmental group, Popkin envisions a sustainable urban village for the site complete with offices, residential units, community-oriented services, and a business incubator. "It'll be unlike anything else in the area," he says. And with the same passion he applied to those row houses in Trenton 30 years ago, Popkin is sure to be successful.


Promotional Video for Studio Park
featuring Daniel Popkin
Editorial: Isles plan to salvage Lawrence diner as training facility is an applause-worthy ending
By Times of Trenton Editorial Board

A distinctive piece of New Jersey's history is destined to shine again as a plan to move the long abandoned Giordano Diner from Lawrence to Hamilton takes shape.

For years, the structure on Route 1 at Bakers Basin Road was a chrome-shining beacon for hungry travelers and families out for a Sunday drive.

Serving up Blue Plate Specials and corned beef hash, it started out in Trenton on Calhoun Street. Moving to the Route 1 site in the 1960s, it changed hands and names — Cass, then Giordano and then Ben's — several times.

But the pace of progress left the diner in the dust — quite literally. Like a cast-off railroad car, it sits amid dirt and rubble as the Route 1 site is readied for redevelopment.

Preservation New Jersey sounded the alarm about its imminent demise. Including the diner on its list of the Top 10 most endangered historic sites in the state, the organization noted its significance as one of just five surviving diners in New Jersey built by the Mountain View Diner Co., a Little Falls company that operated from 1939 until 1957.

Now real estate developer Daniel Popkin has stepped up to rescue the diner from the scrap yard.

"If we did not do this, someone would have moved it out of New Jersey or demolished it," Popkin said in an interview with The Times' Nicole Mulvaney last week. "I'm from Trenton. I live in Pennington. I wanted to keep this thing close."

Popkin, head of Hamilton-based Modern Recycled Spaces, and Trenton's Isles, Inc. intend to incorporate the diner into a plan to turn a 300,000-square-foot factory building into an artist's community with a mix of housing, studios, galleries and storage space.

Though there's no decision yet on how the diner will factor into the project, Popkin says they've considered refurbishing it as an Isles-operated vocational training center for food service workers.

Popkin's plan neatly repurposes not just the diner but the former factory in Hamilton, making use of few-of-a-kind resources in a way that maintains their New Jersey provenance.

Discovering regional quirks and accents, unique sights and specialties, was once a delightful part of travel.

Leveling those differences and distinctions into a endless corporate loop of a few dozen franchises erodes something vital. It's not sloppy nostalgia for the good old days, but recognition that some things are irreplaceable.

As the diner is set to a new and valuable use, it will still be able to illustrate an old story about its iconic part in New Jersey's cultural landscape.

Congratulations all around for conservation at its best.